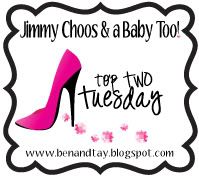 It's that time again, ya'll! I look forward to Tuesdays now so I can partake in this fun little blogging game, if you will. There are no winners, so it truly is not a game, but it sure is fun! Today is...
1. Without a doubt, I would love to go to
Makanyane Safari Lodge
in South Africa. I'll let the pictures speak for themselves and I think you will understand why I would like to visit there.
My Room
The view from my room
Or if I am lucky...
Let's go to the lodge for some reading, perhaps?
Or would you prefer to read/sunbathe out here instead?
While we wait for a zebra to prance by?
Or hit the pool?
And rinse up before dinner...
With this...
...this...
...and of course...these...