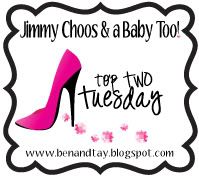 Click
here
to learn about "Top Two Tuesdays" and then link it up...
Top 2 Dream Jobs are....
1. Without a doubt...I would LOVE to own a
Baby and Children's Boutique
! I could sell my art work. In addition, my friend, Vanessa, who makes amazing baby bedding and endless creations would be a large part of it. And I have another friend who sews clothes, and another who is an amazing photographer. I just think it would be dandy! A girl can dream...
2. Would it not be fun to be an
heiress~socialite
?!?! I mean, come on. They party. They get paid to party. They get paid to wear really nice clothes. Wait.....is this even a
real
job? Paris Hilton thinks so....so ~ So. Do. I. At least for this specific blogging purpose....