In an attempt to get my mind off the terrible, frightening, sickening situation that was our Sunday, I am joining Nicolasa with
{My} Perspective
to bring a little bright, happy and cheerful back into existence! Or what we also know as SUMMER!
I could not decide which photo and quote I wanted to use, so I did both! But since I am always heavy with Layla pictures, I am going to use the 1st Quotography as my submittal this week.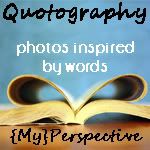 Which one do you prefer?