My "phrase" for the year....really my life, that I have adopted is:
So I am working that into this weeks Quotography theme of water.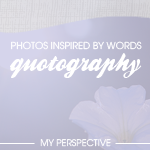 These are some of the pics I snapped when we were at the beach with Layla's cousins a few weeks back.
This next one, of Jaliana jumping over the wave, is probably my favorite capture of the day.
And in lieu of showing you each individual sweet lil kiddo, I am opting for a family pic. Because I could be here uploading pics all.day.long! I kid. Kinda. There are SEVEN of them, afterall.
I die over this pic. Nothing like a daddy and his baby girls...
Now I gotta get the PAIL outta here. Ha!